Welcome to the website of Farnborough Old Boys Guild Football Club, founded in 1932 and affiliated to the Kent County FA.
We hope you enjoy your visit.
RESULTS
Saturday 8th May 2021
Bromley and South London Football League
Division 1
Bromley and South London Football League
Division 2
FIXTURES
Sunday 9th May 2021
Saturday 15th May 2021
NEWS
BSLFL Fixtures Released
The Bromley and South London Football League have issued their fixtures for the remainder of the season. These are now on the club website for the Third and Fourth XIs.
Crofton Albion have withdrawn from Division Two for this season, meaning that the Fourth XI's win against them has been expunged. Our league table has been updated to reflect this.
With the termination of the Kent County League and the Selkent League, this means that all league fixtures are now set for the remainder of the season.
Kent County League 2020-21 is Null and Void
At the Special General Meeting of member clubs of the NRG 24hr Gym Kent County League on 17 March, the clubs voted in favour of making the current season null and void. With a two-thirds majority required to finish the season, 46% of clubs voted to play the season to a conclusion, 42% voted for the null and void option, with 12% abstaining. So the season is terminated with immediate effect, including cup competitions.
This outcome is bitterly disappointing for FOBG, with the First XI, led by Luke Johnson, in the county title race for the first time in the history of the club and with Nick Pitt in his final season as manager of the Reserves, who have also been performing well.
The 2021-22 KCL season will begin for all divisions on Saturday 14 August.
The Bromley and South London Football League clubs have voted in favour of playing the league season to its conclusion, finishing by the end of May, with all cups cancelled.
The Orpington, Bromley and District Sunday Football League have made a similar decision, with cup matches still in doubt. Fixtures have already been re-issued for this competition.
Games in both leagues will resume the weekend of 3/4 April.
The Selkent League has already decided to cancel its league season, with the clubs competing in shield competitions until the end of May.
Both our Vets teams will resume fixtures on the weekend of 3/4 April.
First XI's 2019-20 Kent Cup Final: New Date
The 2019-20 Kent Intermediate Challenge Shield Final between the First XI and Metrogas has been provisionally rescheduled for Friday 28 May.
The original venue was Chatham Town FC, with a kickoff time of 7:45pm.
We will confirm the venue as soon as we can. Of course, this is all subject to Covid-19 regulations.
Patrice Mongelard's Reports Omnibus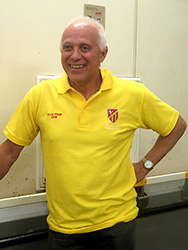 Patrice Mongelard
is in his 25th year at the Guild and has played over 600 games, all for our Vets / Senior Vets.
For over half of these games he has written detailed and amusing match reports which together provide a chronicle of the travails of our Vets teams since 2008. As a way of passing the days of lockdown, he has, with the help of
Colin Brazier
, taken on the task of compiling his "reports omnibus".
In Patrice's own words:
"My love of football is no secret. I have decades of memories as a fan and as a player, and made many enduring friendships through football. I have been fortunate to be able to carry on playing in my 40s, 50s and 60s - 620 games, all as a veteran, to date, for Farnborough Old Boys Guild. Whoever breaks this club record will be ancient, and very tired. My association with the Guild has resulted, also, in around 350 match reports. Yes, I write about the game too and, as I like my own words and I am a bit of an anorak, I have put all these reports in one single document. I must warn you – at 831 pages, it is for the real football fan."
You can read Patrice's tales of grassroots football
HERE
.
Premier Pensions Renew Club Sponsorship
Premier have agreed a shirt sponsorship investment into the new Junior Section of the club, along with the established Colts, and have made funds available for its future development. Here
Danny Embleton
, one of the Academy's many star footballers, is modelling the new strip: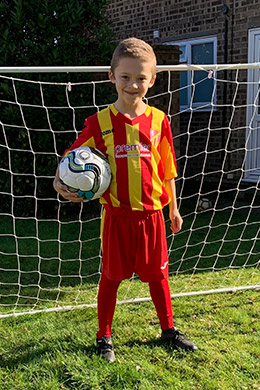 The club would like to thank
Paul Couchman
for his ongoing financial support.
Saturday Reserves Team Manager Required
Nick Pitt
has taken the decision to step down as the
Saturday Reserves
team manager at the end of the season.
If you wish to apply for the now vacant post please email
mailbox@fobgfc.org
stating your interest.
Alternatively,
club members
can contact either
Ian Couchman
,
Danny Saines
or
Luke Johnson
direct.
The application window closes on

Friday 26th March

.
Interviews will commence from
Monday 29th March
. They will be outside and following Covid-19 guidelines.
Once agreed, the chosen candidate will link up with
First XI
team manager
Luke Johnson
and assistant
Mark Warner
for 2021-22 pre-season training and friendlies, in preparation for the new season ahead.
NHS COVID-19 Contact Tracing App
Download the the official NHS COVID-19 contact tracing app HERE.
Our Social Media
As well as our website, we have an official presence on Facebook, Instagram, YouTube and Twitter. In addition, most of our nine teams have their own Twitter accounts.
FA CHARTER STANDARD

FOBG has held FA Charter Standard Adult Club status for several years now. This is official recognition by the Football Association given to non-league clubs that have demonstrated that they are well run and sustainable. It also recognises the club's commitment to coaching, player and coach development, and the raising of standards of behaviour in the game.
The benefits of having Charter Standard status include:
Use of the FA Charter Standard Logo
Enhancement of funding applications and bids
Kit and equipment grants from the Football Foundation
Exclusive workshops
Starter pack, including posters, codes of conduct, certificates
This represents a major step forward in the development of Farnborough OBG FC and illustrates the ambitions of the club to develop further both on and off the field.
Many thanks to Malcolm Poynter for his hard work in achieving this recognition for the club.
More information regarding FA Charter Standard status.